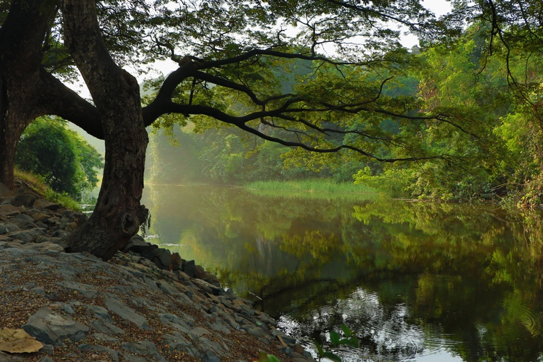 Do you find yourself thinking about money more than you know you should?
Looking at life with a fresh set of eyes and a firm grasp of what God wants to say about your situation, will change not only you but your money too.
Romans 12:2 – "And do not be conformed to this world, but be transformed by the renewing of your mind, that you may prove what is that good and acceptable and perfect will of God."
The Bible provides us with a comparison of two paths in Psalms Chapter 1.
One is of the righteous, which is anyone who has accepted Jesus into their life. This path is compared to a thriving and fruitful tree planted by the water.
The other is of the one who does not choose faith in Jesus, whose end is destruction.
How does this relate to money? Because Psalms 1 also tells us something about the righteous person who chooses to meditate on the Word of God. This is the path you want to choose! This path is prosperous!  Promises for your life are on this path and changing your mindset according to God's Word can also change your money and every other area of your life!
Often Christians simply do not go to the Word of God to find solutions.
The picture painted by Psalms 1 describes living a life where Scripture is not a one time a week deal, rather something taken with us throughout the day. This will yield a fruitful life.
It is not a promise of overnight success. However, it is a promise that when God's Word is what you've built your life on, you will succeed as you apply the principles believing in faith that God wants to bless you along the way.
You don't have to fear failure. Keep pressing on. Keep seeking God's Word. Keep seeking His wisdom. You will be like that healthy and strong tree that in its season will be prosperous. With faithful trust in God's nature and bulldog tenacity to be obedient on your part, stand on those promises. Trust God with the details. He really wants to amaze you and is the God of more than enough ( Ephesians 3:20-21).
He has a plan that will not only change your mind but your money too. Our blog and book, Doing Money God's Way is one tool you can use to help you change your mind and change your money through the Word of God.
Psalms 1:1-3
"Blessed is the man
Who walks not in the counsel of the ungodly,
Nor stands in the path of sinners,
Nor sits in the seat of the scornful;
But his delight is in the law of the Lord,
And in His law he meditates day and night.
He shall be like a tree
Planted by the rivers of water,
That brings forth its fruit in its season,
Whose leaf also shall not wither;
And whatever he does shall prosper."
#changeyourmindandchangeyourmoney
#doingmoneygodsway